It is interesting how you can be a somebody one place
and a nobody in another.
Interesting and frightening,
Because nothing you show for yourself is viable
in the nobody world.
In the Land of Nobody, nobody is awake.
They're just stumbling numb, pan-handling
for the next thing to smash into that hole marked cozy.
And what they say about "just be yourself"
feels so forced here.
Like you're having to take all that you
and stuff it through the mouth of a megaphone.
Like you're having to take all that you
and cram it in the blowhole of a whale.
Like you're having to take all that you
and stuff it into the cardboard tube
of a firework you'd buy at a corner stand in a desert in Arizona.
So when they get you, in that one chance you get,
they get too much.
And you don't believe in too much.
In this world you walk alone
and your friends are invisible
and you cocoon into your own skin
because your own skin is the only thing for miles that
looks anything like home.
Your skin says, "Stay put, I've got this."
But something keeps trying to crawl out
and claw its way into …
into what exactly?
You question your skin's appearance.
"Maybe I put it on backwards, today," You say.
"Maybe I forgot to zip it up and my bones are showing
and my guts are leaking out."
This is what it sounds like to hear your own footsteps.
To be saying in your head, "Raise your right foot and now raise your left."
This is what it feels like to have sweaty pits and sweaty palms and shifty eyes.
To spend hours trying to come up with something
worth discussing with words that aren't sticky enough, and keep sliding off
slick, polished exteriors.
Polished to a shine.
And you don't do shines.
You don't do shines and you don't do games and you don't go knocking
on circles that are circumferenced with backs instead of fronts.
You don't shoulder poke and you don't carry a crow bar.
You'd just as soon walk the edge like a balance beam.
At least there is air over there to breathe.
At least there is space there to let your arms
unfurl.
At least, tossed to the curb, there is nothing to prove.
And they won't come looking.
"Where'd everybody go? I looked behind me and they were gone."
You laugh. You laugh and think "Yeah, tell me about it."
Remember that moment.
How it felt, with clammy skin
and a cramping abdomen
and your hair all full of life.
How it felt to let your knees go loose
and your head make contact with the back of the chair
and your eyes to close
and for the crawling and the clawing to stop
and for you to say,
in a whisper,
I am not going to be the one
to try anymore.
I quit.
Because this can't matter.
I'm not the sort of person
that needs this to matter.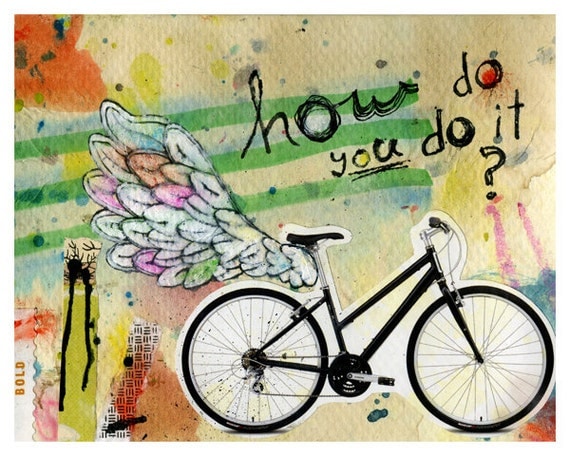 Can you hear the sound
of a mystery giving birth
to a mystery?
And in all that hatching,
uncertainty is the only thing
with wings.
Always closer than it appears.
Always.
* * *
★ As a community project, The Art Journaler Community subscribers are posting our discoveries and ponderings — and we are linking Taking Flight themed blog posts on a weekly basis using Mister Linky HERE. We'd love to have you join us. You can subscribe HERE.